Interview with Daniel Mulligan, Soloist at Ballet Zurich
First of all, congratulations on your nomination as a brilliant Mephisto by Dance Europe!
You have been with the Ballett Zurich for 11 years. What were the most important steps of your career?
The first job which was offered to me after ballet school was a contract with the Junior Ballet in Zurich in 2007. Heinz Spoerli, the ballet director at that time, pushed me quite a lot and gave me some good opportunities and small roles. After 2 years I was offered a position as "Gruppe mit Solo" in the main company which means being a dancer in the Corps de Ballet of Ballet Zurich with some solo roles. I was very surprised that Heinz Spoerli appreciated me that much.
This relationship continued for 5 years. I danced a lot of Spoerli's repertoire but also worked with world renowned choreographers such as William Forsythe, Mats Ek and Hans van Manen.
When Christian Spuck came in 2012, the repertoire took a new direction to more modern ballets. I felt very good working with Christian. In his Romeo & Julia I first appeared as Benvolio and then – a dream came true for me- to dance the role of Mercutio.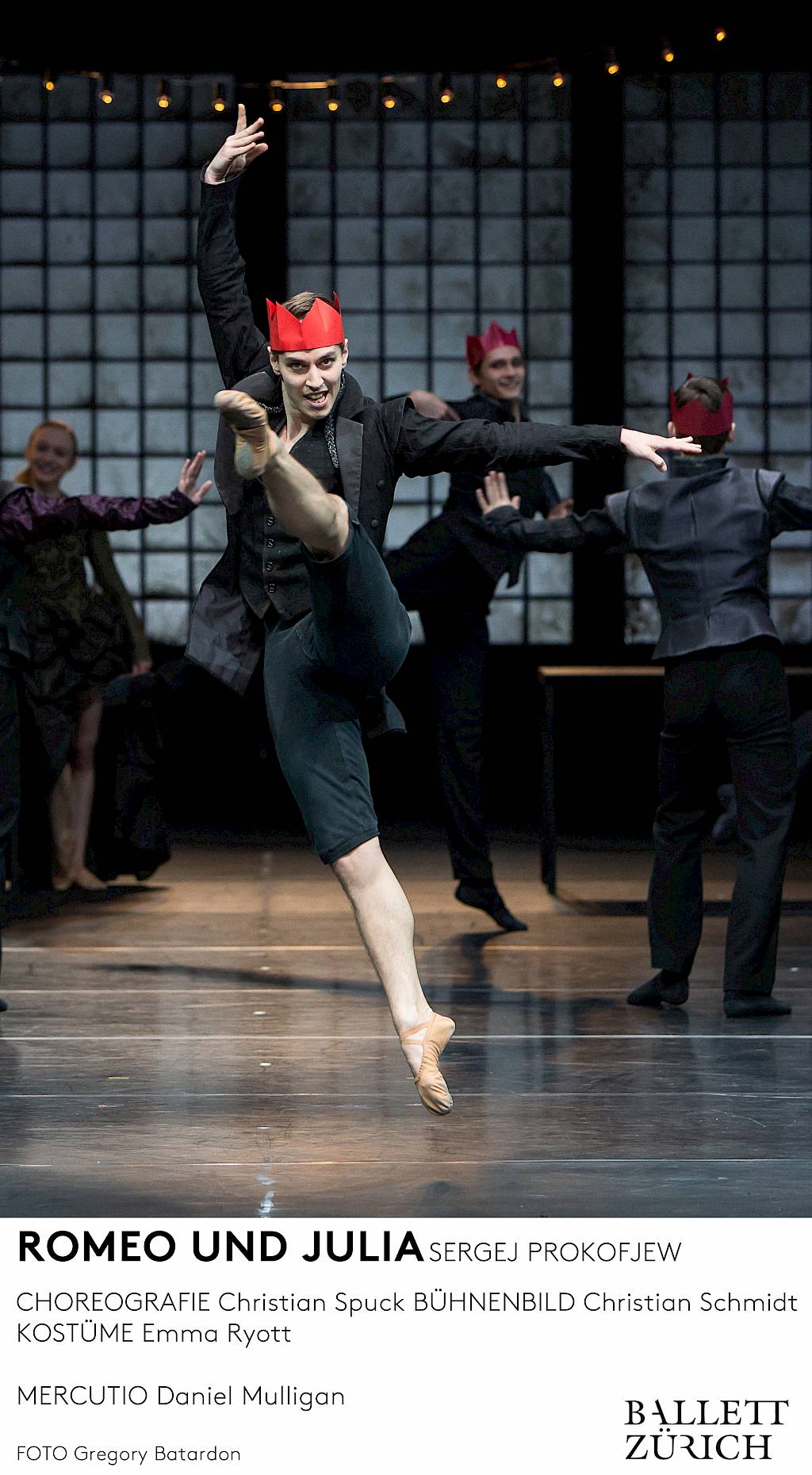 Unfortunately after the first season my hip was damaged and I needed surgery at the age of 25. That was a downer in my career. But I came back from that after 5 months out. That was a difficult journey and it took me time to get used to the new feeling in my hip. Actually to be fully fit again took me about two and a half years. Even now it is not the same as it was before.
In the meantime I was lucky to be cast by many well known choreographers and in lots of Christian's works too. Alongside Mercutio, some of my highlights have been:
GODS AND DOGS by

Jiři Kylián

PETRUSCHKA by Marco Goecke – where I danced the title role

FAUST by Edward Clug in which I was cast as Mephisto

Working with William Forsythe, Paul Lightfoot/Sol Leon and Crystal Pite
I am very grateful to Christian for inviting all of these different choreographers. It is an extraordinary opportunity to work with them at Ballet Zurich in person.
Christian promoted me to Solo mit Gruppe in 2017. I feel very comfortable dancing in his pieces and creating with him. We've worked closely together over these past 6 seasons and in the process I've discovered what he is looking for stylistically and emotionally in his ballets.
You were trained as a classical dancer at Royal Ballet School in London. Now you dance contemporary and neoclassical ballets. What are the challenges?
In many ways I suppose the school training is still there underneath somewhere, it's my basis. But working with so many different choreographers over the years has moulded me and opened my mind to new ideas. I love the challenge to keep changing and keep growing – hopefully for the better.
I definitely love the more modern work. There are so many layers that one can get into. It's a process of learning and discovering something new about yourself. For me it is important to try and achieve the wishes of the choreographer and get into the spirit of the piece with the physicality and the emotional response, even with an abstract work.
I still enjoy the side of being a character as well. A lot of Christian's works require a sense of character and dramatic skills. For me it is a personal journey to discover what I can bring to the piece and try to add some elements of my own personality.
But I still love classical ballet and call myself a ballet dancer. I work hard every single day to maintain my classical technique. Many modern pieces are still based on the classical vocabulary but pushed and stretched in different ways.
How do you remember the steps and movements?
I suppose it is the repetition. We take it in small steps at first and then when we've completed the learning or creation phase we will rehearse it until every detail is really in our mind and body. For me the way I learn things is with the music and the rhythm. The musicality helps me to remember the steps.
When you dance different works at the same time you have to go through the steps mentally. Luckily here we have enough rehearsal time.
Rehearsing for the revival of a piece in our repertoire we have recordings of the performances to watch and the ballet masters will help us to memorize and work on the material. Your body almost has an automatic response. When you know the work really well, it is still in your head and your body.
Now you just danced at the premiere of Christian Spuck's new choreography WINTERREISE. What were the challenges of this piece?
Winterreise is a new creation. It has been quite a long process, taking many hours, a lot of repetition and we have been making changes to the piece until the end.
To remember each change is a lot of brain work too. Before the rehearsal I go through the corrections in my head. Personally, I don't usually write them down but sometimes I do when there is a lot to remember.
We didn't create WINTERREISE chronologically. In the group scenes we were jumping from number to number. So it took a while to understand the structure of this piece with its 24 songs. In the last 2 weeks everything came together and it really developed into a great ballet.
It takes a lot of concentration and focus to stay in the piece. I have one physically challenging part in a trio towards the end but in the rest of the piece I have entrances that are shorter.
You are the speaker of the company as well. Tell us more about this position.
Alba Sempere Torres and I are the union representatives, elected by the dancers. The role I have is that of someone whom people can approach in between the ballet direction and the dancers if there is an issue that might arise. Luckily that doesn't happen very often. It is more about organizing positive activities, for example, thanking the people we have worked with at the premiere. In that way we give the dancers a voice.
People seem to trust me. They come to me for all kinds of things. It is a diplomatic position where I try to make sure things run smoothly and hopefully everything can be solved through talking rather than boiling over.
Daniel Mulligan
Daniel Mulligan comes from Great Britain and studied at the Royal Ballet School in London. After two seasons with the Junior Ballet, he joined the Ballett Zürich in the 2009/10 season. He has appeared as a soloist in many of Heinz Spoerli's choreographies. He danced Mercutio/Benvolio in Christian Spuck's Romeo and Juliet as well as in ballets by Mats Ek (Sleeping Beauty), Hans van Manen (Solo, Kammerballett), Edward Clug (Chamber Minds, Le Sacre du printemps), Sol León/Paul Lightfoot (Skew-Whiff, Speak for Yourself), William Forsythe (Quintett), Jiří Kylián (Gods and Dogs), Ohad Naharin (Minus 16), Marco Goecke (Petrushka), Filipe Portugal (Corpus), Douglas Lee, and Crystal Pite. Recent leading roles have included Mephisto in Faust – The Ballet by Edward Clug, Fritz in Christian Spuck's Nutcracker and Mouse King and Stiva in Spuck's Anna Karenina. Photo© Jos Schmid
More about Daniel
Mulligan
in the Magazin 62 of the Opernhaus (in German)